Discover more from Slade's Corner
Deep dives into the things I care about: tech, games, and more. Plus, the weekly Bulletin with everything new in my world. Welcome to my corner of the internet.
Capitalizing on this moment + other interesting links
** The Bulletin ** - November 18, 2023
Hello everyone!
This is coming a little later than I anticipated—but I promise it's for good reason! I can't talk about it yet, but it's for good reason. After two weeks of being on time, I just had to make this week different, huh?
Well, this week I worked on a lot of stuff relating to various projects that needed loose ends tied up, because I won't have time to do so next week (given the Thanksgiving Holiday, I'm taking some much needed time off wherein I don't work at all!) I turned the last big three of the big projects in, though there's one still in flux that I need to work on with Repflez (Oman). Eventually.
Last night, I spent a lot of time on voice chat with the rverse testers, just hanging out and getting to know our latest team member—TraceEntertains—who is an absolutely lovely guy. He's a really cool addition to the team and I look forward to whatever we get up to together, inside (& outside) of rverse!
In other news, I became Chandler from Friends at the mall today w/ my best friend, which was both hilarious and definitely concerned many around us. Whoops. (Rest in peace, Matthew Perry, you will always be loved, and missed dearly!)
Alright, enough intro. Without further ado… here's this week's Bulletin!
---
Some of the more notable stuff from the world of Kakariko Herald, my news publication focused on Nintendo, which I write with Tyson (better known on the internet as Tigstahh):
---
Upcoming events
Just a reminder that my mom (the absolutely talented woman behind Theodessa Designs) is going to be at this year's annual Holiday Market*, taking place in The Armory in Hoosick Falls, NY, on November 25th, 2023 from 10am-3pm. That's next weekend! If you happen to be in the area, swing over to The Armory for a few minutes and check it out! (You might even see yours truly there, so definitely come on out!)
*Barring any major disasters, of course. We'll keep you posted.
(And once again, another reminder that I'm still working on getting my mom's website at TheodessaDesigns.com up and running. There's a lot that goes into making sure this runs smoothly!)
---
This week's soundtrack
I'm kind of a Spotify addict, so I happen to listen to a lot of music. Here's what I'm currently listening to—usually on repeat. Here's what I've got for you, for the week of November 18, 2023…
Thanks to Songlink for making all these streaming platform-agnostic!
---
Things I found across the net
Welcome back to the world wide web of random things I bookmarked and then decided to dump somewhere.
---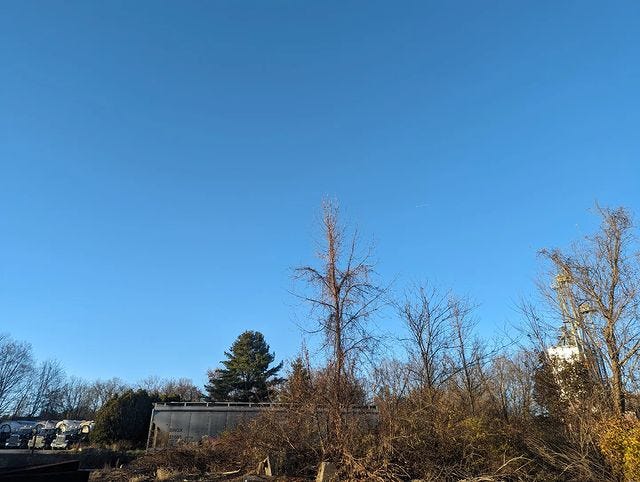 This week, I leave you with two photos!
One is a shot of my two-year old cat Beauregard laying on pieces of paper instead of literally anywhere else…

The other photo is one I took of the fall sun hitting the trees and train car as it went down. I went out and about with my mom and siblings last weekend and just had to snap a pic. (Before anyone asks: taken on Google Pixel 6 in North Bennington, Vermont—with all settings set to Auto!)
Alright, that's it (for reals), I'll see you all next week!
Speeding down the highway with a clear shot to freedom,
Slade
P.S. I hid a few easter eggs in here hinting at something that's in the pipeline… try to see if you can catch them!